ABOUT US
We are A1 Lock and Safe of North Carolina, your Durham and Chapel Hill Locksmiths. Being local and family owned , we would appreciate nothing more than being your first choice for your locksmith and safe needs. Why not call us today?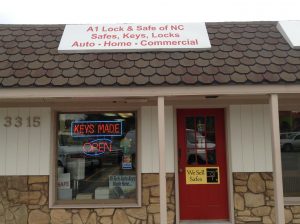 WE OFFER:
CAR AND AUTO LOCKSMITH
SAFES FOR SALE (GUN, FIRE, VALUABLES)
KEY DUPLICATION AND TRANSPONDERS
COMMERCIAL LOCKSMITH (REKEYING AND INSTALLATION)
RESIDENTIAL LOCKSMITH (REKEYING AND INSTALLATION)
Call:  919.471.1111
---
WHY WE SERVE AS CHAPEL HILL AND DURHAM LOCKSMITHS
Durham, NC is the home of the Durham Bulls, the Eno River State Park, the Durham Performing Arts Center, the Duke Chapel, and Bennet Place. With so many historical and vibrant places, and colorful people–your Durham Locksmiths at A1 Lock & Safe will go a long way to protect the people of Durham and Chapel Hill. As more than 6,000 unique visitors travel through Chapel Hill and Durham and the citys's businesses continue to grow and expand, we hope to grow and expand, too. The wonderful mix of our tobacco and textile history mixed with our preference for arts and sciences makes the Durham the City of Medicine. If you need Durham Locksmiths while you happen to be living or traveling in the Durham or Chapel Hill area, please consider A1 Lock & Safe. We know and love the area like the back of our hands.
Because we have lived in the city, we know just how busy it can be. We know how easy it is to lock your keys in your car while you are shopping at Northgate or South Point Mall. We know how important it is to have duplicate keys made for your college students attending Duke University. We especially know how essential it is that you do what you can do protect your business and your family. You can do so with our safes sales and commercial and residential services.
Get Your Chapel Hill and Durham Locksmith Today!